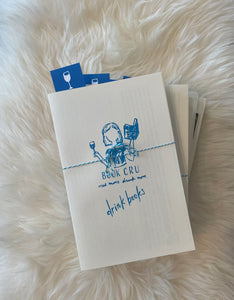 Regular price
BOOK CRU FRIENDS
---
Wanna join Book Cru, but don't live in Seattle? Sign up for Book Cru Friends, a monthly book subscription for our out of town friends. Each month you'll receive: a novel, our signature Book Cru essay, tasting card, and wine suggestions to take to your local wine shop so you can drink along with us wherever you live. 
p.s. When you sign up, you get a free Drink Books zine in your first shipment. 
*Note, this subscription ships monthly and does not include bottle of wine. Not all wines will be available in every place, but we'll adjust our recommendations to help you find something tasty that's available from your local wine shop. Can't find a local natural wine shop? Email us, we'll try to connect you with one! 
*Sign up by the end of each month to receive the following month's book. Books will ship on the Second Sunday of each month.