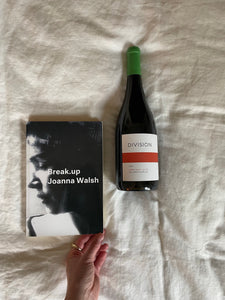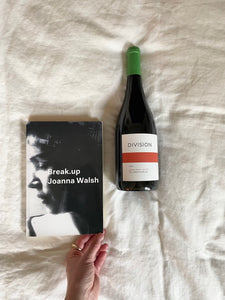 Regular price
Break Up by Joanna Walsh with Division Gamay Noir
---
Despite the fact that I'm writing these notes sitting in my apartment, unequivocally in a city, I find I've been missing them. Cities. The temporary strangeness of visiting: the feeling of haunting more than inhabiting, becoming swept into a particular rhythm where "whichever string you pull leads to a different frayed end." The desire itself is a particular space: to be alone with the city and my thoughts. To be elsewhere and nowhere at the same time. Break. Up, a novel in essays by Joanna Walsh, meanders from city to city, dwells in places of transit, and progresses without a whole lot of certainty, and yet it's in no way an aimless novel. Its aim, also its desire, is to hold on. Smart, layered with theory and philosophy, but not at all dependent upon the laws of others. It's a novel about love, but not likeability. And I like that about it, the freedom to not be likable; to not be concerned at all by the likeability of your desires, or your inability to let them go.
While reading Walsh's novel I wanted a cigarette. I've never been much for cigarettes, so the craving was both vague and familiar: I did not want the actual object, but rather its consonance— my tongue tripping toward an imagined desire. To be outside of my apartment, my head, and pulled toward another's, even if it isn't any more likable than my own. Which is also the thing that drew me to this month's wine. A thing that can sometimes be seen as an undesirable trait—a flaw— though I find it delicious and mysteriously drinkable. Division winery's Gamay Noir smacks of bright cherries, like "trampling fruit and flowers" and then tasting it as it runs down your skins—salty almost. And after a few sips, there it is— unconcerned with whether you like it or not— the smoke. 2020 was a smoky year for Oregon, and thus will be, at least somewhat, present in the year's vintages. A year marked by something uncontrollable. You can taste it: the Mood of the whole year, and you should. Taste it, I mean.
I drank this month's wine over the course of three evenings, mostly wanting to see how the wine developed, but also because like Walsh "I have to repeat, it's part of understanding where I am." The wine holds— smokier on day three, but not noticeably smokier on day two. I want to say open it when you begin, but perhaps wait until the desire, or craving, meets you where you are. And where I am, of course, is in a city, tapping out thoughts to myself against a backlit screen.
Joanna Walsh is a writer from the United Kingdom and is the author of Vertigo, Hotel, Grow a Pair, and Fractals. She is also a journalist and visual artist.
Division wine is the project of two friends Kate Norris and Thomas Monroe started in 2010. They are an 'urban winery' making wine outside of Portland, OR and sourcing grapes from the Willamette Valley. As 2020 was a hard year for Oregon winemakers, this vintage is a combination of whole-cluster carbonic and semi-carbonic maceration with shortened time on the skins and a letting the pressed off juice settle before fermentation in a mix of concrete, neutral oak, and stainless steel. The end result, for me, is a perfect expression of the year without being overwhelmed by it.