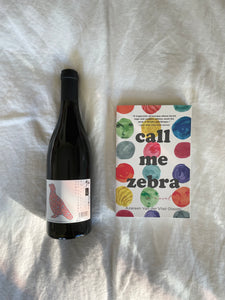 Regular price
Call Me Zebra by Azareen Van der Vliet with Celler 9 Cantaperdius
---
For a while now I've been circling around a thought. Trying to follow it to some yet-unknowable depth, which is a thing I like to do: obsess. The thought is something about reading as consuming: my mind, a hungry mouth. This is how I've always read. Looking for answers in language, finding meaning in the ways we are always looking for meaning—outside of ourselves. It isn't a new thought, but rather a very old one. The Ultimate Quest. At times this philosophy of reading can feel like too much, and when it does, like the taste of something long-ago consumed lingering in your mouth, I am reminded that when caught up in the underworld of our minds, what we often need to pull us out again is humor, even about what's most painful, which is something this month's book has in droves. An emotional chiaroscuro of what it means to be alive, and searching.
Like so much of Art, how, or with which self, you read this book will be highly subjective. I found Oloomi's protagonist to be both hilarious and exhausting, which is generally how I feel toward anything I find illuminating and therefore can't easily let go of. In fact, Call Me Zebra by Azareen Van der Vilet Oloomi may be the most Drink Books informed pairing we've ever had. It's a book you can eat. Chew on, in fact: the meat of literary references is extensive and filling. I didn't know them all, or even very many, but like a hearty meal consumed at the point of exhaustion, I let them wash over me, trusting my teeth would find the ones that felt dished up most precisely for me. And when I found some morsel of meaning I was after I ate it—with "a passion bordering on madness," my tongue finding comfort in digesting each of its parts.
While our Book Cru wine pairings are rarely informed by place (i.e. actual, physical, specific place) this month's book demanded something in particular. A trusty sidekick of a wine, one that disappears and comes back, year after year, better, or perhaps more determined, than ever: the Celler 9+ Cantaperdius from Catalonia. A blend of 50% Sumoi, 45% Ull de Llebre & 5% Cartoixà, this is a juicy wine that smacks of olives and acid but after a few sips metabolizes into something a bit more raisiny: plump and baking under the heat of the sun. It's a pairing that, at least for the self I feel most in possession of currently, is highly consumable, and honestly I can't get enough of either in my mouth.
Azareen Van der Vliet Oloomi is the author of three novels: Fra Keeler, Call Me Zebra, and most recently Savage Tongues, all of which feature obsessive narrators that I love for different reasons. She is Iranian-American and has lived in Catalonia, Italy, Iran and the United Arab Emirates. She currently lives in Chicago and is the founder of Literatures of Annihilation, Exile and Resistance: a bi-annual symposium & lecture series.
Celler 9+ has been making wines in the Tarragona region of Catalonia since 2010. The winemaker Moisès Virgili i Rovira was born and raised in the area, and now the whole vineyard is a family affair with a deep love of biodynamics and commitment to biodiversity. Of the Cantaperdius he calls it a "frank" wine, which feels oddly appropriate to this month's pairing. There's no added sulfur and the grapes see six days of maceration in stainless steel.