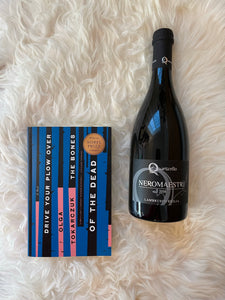 Regular price
Drive Your Plow Over the Bones of the Dead with Quarticello NeroMaestri
---
There are many things that I like found in Olga Tokarczuk's newest novel Drive Your Plow Over the Bones of the Dead: transiting planets, poetry, the Night, thrift stores, cars with Nicknames, foxes, boiler rooms, characters with strong opinions on other human's behavior, and suspense driven by the principal question "whodunit?" It has elements of folklore: a secluded, forested town where the Night is an element justly referred to in caps. An older, female narrator who men (specifically those in charge) are quick to call mad. And elements of mystery: double-narrative, chapters that read like scene titles, and a sharp-tongued narrator. But unlike a hardboiled detective novel, justice isn't simple, and what's most thrilling about it in the end isn't exactly what happened but why—where right and wrong are not clearly defined, and we, the readers, are confronted with our own morality.
Lambrusco wines are made up of seven major varietals. When said together their names sound like the names of a genus of Italian insects. This month we're drinking the 2017 NeroMaestri from Quarticello in Emilia-Romagna, Italy. It's a blend of Lambrusco Maestri and Lambrusco Grasparossa. The Maestri family grows vines on eight hectares of land that are also a farm. The grapes grow high so that cows and other animals can graze below. Symbiosis. The wine embodies this too: smokey, earthy, bright with tart cherries, and just ever so slightly meaty. It's the perfect wine to drink while considering all your vices. And if your Venus is high, your Mercury out of retrograde, and you start drinking around page fifty, you can easily consume this whole bottle while finishing this whole novel in one page-turning sitting. Don't drive and stay away from anything that may provoke extra rage (i.e. red-faced men in seats of power, the patriarchy, or intentional line skippers): this bottle is hefty and the Night is long.
Olga Tokarczuk is one of Poland's most celebrated writers. In 2019 she was belatedly awarded the 2018 Nobel Prize for Literature, in which the judges cited her "narrative imagination that with encyclopedic passion represents the crossing of boundaries as a form of life." This particular novel was translated by Antonia Lloyd-Jones and is the third of her novels to be translated into English. Drive Your Plow Over the Bones of the Dead seems particularly relevant to contemporary culture and though the translation was published in 2019, the original work was published in Poland in 2009.
Quarticello (established in 2001) is the family winery of the Maestri's, where Roberto Maestri is now making delicious, timely Lambruscos in the traditional style of spontaneous fermentation, with only native yeast and traditional Lambrusco varietals. Which, for the record, are: Lambrusco di Sorbara, Lambrusco Grasparossa, Lambrusco Salamino, Lambrusco Marani, Lambrusco Maestri, Lambrusco Montericco, and Lambrusco Ancellotta.