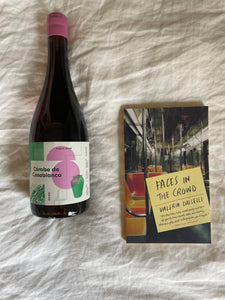 Regular price
Faces In The Crowd by Valeria Luiselli with Vincola Atacalco 'Carabe de Casablanca'
---
For some time now I've been looking back. Re-reading novels in order to feel a little less lost. The impulse being: if I could see who I was in that life, when I first read it, I could find myself again in this place. In fact, so much so that lately I feel almost incapable of reading a new thing, though I have a sneaking suspicion that what I'm looking for lives somewhere in a future tense too. As a novel, Valeria Luiselli's Faces In The Crowd exists, almost entirely, in this "inconjugatable tense" between—or containing—this and that life, which means it exists in a tense more dedicated to "folding time" than keeping things vertical. It's a novel I felt I'd read numerous times, though, by my own notes, it's possible I've actually only read once, and so it would be more accurate to say: it's a novel I've been drawn to—folded into—forward and backward, many, many times.
In this life I spend a lot of time with a partner who thinks I describe things as porous that can not, or should not, be described as porous. Liquids, for example, and now novels. But Faces In The Crowd is very much a porous novel, a "dense, porous" read that I suspect, like a sieve, will let through different things for each reader. I mean, what, if anything, you take from it will depend entirely on who you are, and how you read it. It's a novel that must "be read from within," its holes being where, in the end, you'll find yourself.
"Sometimes I bought wine, although the bottle didn't last a single sitting," writes our unnamed protagonist from that life. In this life I've been finding it almost impossible to drink anything other than peachy, dry skin-contact Pinot Gris—another experience of revisiting, I suppose—and so the Vincola Atacalco 'Carabe de Casablanca' Pinot Gris is where we find ourselves this month. Found! Aged on the skins for four months, and then another twelve in Italian Amphora, it's a wine that contains both this and that world: juicy watermelon, peach skins, and tomato vine from this life mingling, or perhaps overlapping, with the savory, dusty ghost of that life—all of it all at once hurtling by. For that reason, I liked drinking this wine better on day two, but even now, I don't know if it's an experience that can be replicated—the wine, like this novel, becomes something new just as surely as you begin to expect something of it.
Valeria Luiselli was born in Mexico City and grew up in South Africa, South Korea, and India. She is the author of numerous novels as well as non-fiction books Sidewalks and Tell Me How It Ends: An Essay in Forty Questions. Her novel The Lost Children Archive was nominated for a Booker Award in 2016. Faces In The Crowd was Luiselli's first novel to appear in English, translated by Christina MacSweeney, who is the translator of many, many Spanish language books we've loved.
Vincola Atacalco is the project of two winemakers, Ricardo Baettig and Carlos Spoerer, in the relatively new Chilean AVA of Casablanca. Modeled after the Northern Italian skin-contacts they love, these two make beautiful, expressive wines in this life, while emulating something beloved in that one.