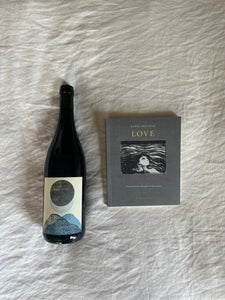 Regular price
Love by Hanne Orstavik with Rocamadre Criolla Red
---
Recently I found myself on the kind of island you only find out here in the Northwest, or maybe somewhere in the Ireland of my dreams: rocky, perpetually gloomy, but all the more beautiful for it. Because of the impending shift in seasons, I took with me a stack of books that had about them an atmosphere of foreboding: inhabited by monsters, a dark house set in a deep wood, and one little novel with a textured cover that was "pleasant to the touch" and had the audacity to call itself simply, Love. An audacity, like the promise of the changing season—Fall—I was certain I was ready for. But when I got to the island it wasn't gloomy at all. It was hot, fiercely so, in the sun where I sat doing nothing, surrounded by fields of lavender and buzzing bees. I went swimming. I drove into the small town and bought strawberry ice cream and returned to the house where I was staying—which was round and made of wood logs—to find a woodpecker pounding a melodious tune through the core of the house. Which is all to say, meteorologically speaking, the atmosphere was still very much summer.
At its heart, Love builds tension like that of a fairy tale: through an accumulation of details that grow increasingly strange; its sense of timelessness (snow, and more snow); the both general and specific oddity of its characters (I will not give much away here); and the presence of directives, or lore-informed rules ("the body can't be trusted")—all of which "gives the impression" of being lead further and further down a path through the woods, even if we are actually being led somewhere else. What I found so rapturous about Hanne Ørstavik's Love (so much so that I picked it up right there, strawberry ice cream dripping down my hand, in the cabin where it was still summer and read straight through the afternoon and into the dark evening, and when I finished the hollow sound of the woodpeckers had been replaced with the novel's own euphonious melody echoing through the core of me) was the voices of our main characters, shifting back and forth, become increasingly entwined—like that of a lustrous plait, each strand absorbed into the other. And when it does arrive— the end of the rope, or tale— I loved the novel even more for how Ørstavik's prose skirts the moral. This book is teaching us something, but it's not what you think.
The more I think about it, I never would have been able to read Love during the early baby-gloom I was looking forward to. And certainly not in the dead of winter, whatever that means out here. I needed the reminder of summer, of fruit, of "breaking off twigs, tasting a berry" to linger on my skin, and in my mouth, while reading this dark little tale. Like the character's in Ørstavik's novel: I needed to be in two places at once. The Rocamadre Criolla is made from two varietals of Criolla: grande and chica, which is a very fairytale sort of name for a grape. It, unlike the actual atmosphere of this novel, is a very between season's bottle of red: the memory of tart red fruit with the softness of something that has time to linger. It, very much like this novel, is a red that takes me to two places at once: a field of wild strawberries overlooking a steep, rocky mountain perhaps? Summer, but on the verge of something else.
Hanne Ørstavik is a Norwegian author of several novels, including Love (translated from the Norwegian by Martin Aitken) which won the 2019 Pen Translation Prize.
Rocamadre is a "mountain wine project" in the Uco Valley of Argentina, from Juanfa Suarez and Cecila Duran. There vines grow, quite literally, at the base of the mountains. Their project seeks to reflect the mountain, the sun, the snow and the stones," making for some delicious atmospheric, fresh wines. This blend of Big and Litte Criolla sees 10% whole bunches fermentation for 20 days, then maturation happens in tanks and used barrels for 8 months followed by 4 months in bottle.