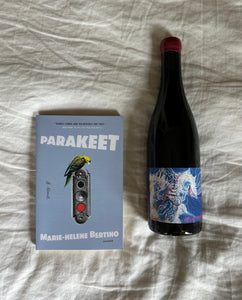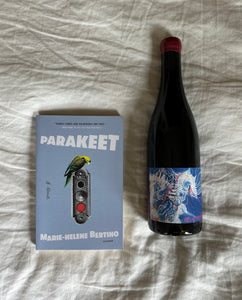 Regular price
Parakeet by Marie-Helene Bertino with Birdhorse Heliotropes
---
Tell the truth, but tell it slant, is something the poet Emily Dickinson once famously said, and has become a shorthand phrase for a certain kind of narrative: one that tells the truth, but not directly. Parakeet by Marie-Helene Bertino is a novel concerned with telling a kind of emotional truth—one concerning sisters, family ancestry, and trauma, and grief— narrated in that slanted tilt-a-whirl way that's more akin to the movement of memory and dream than real logic. Meaning, the truth flickers and fades, circles and peregrinates, in and around reality, in a way that feels wholly correct for my grieving-summer-brain. It's the truth, but maybe not the whole one, or not all the time.
I read this novel over the course of two afternoons, the bulk of which were spent with my feet in a very cold river and my body angled toward the sun. The sensation of being in my body was hard to reconcile with the sensation of being in the narrator's brain: one lush and steady and the other incisive and slippery. And yet, I felt as though both things held some sort of truth, and in being here, and reading, I was moving toward it even if it felt as though I was "only going back and forth on the train" between body and mind, where for a long time most of the discernibly true things looked the color of warning: "sharp, curve, yield-yellow." Which is perhaps what Bertino's novel brings, physically, to the conversation: a sharp rise you can feel in your body, like a swell before the wave's inevitable crash, and how, if we move toward it— there is tenderness in that yielding.
"The floor we're standing on is the ceiling of the room below," is a profound and obvious statement that I, like the narrator of this novel, felt incomprehensibly moved by at some point in this story. While reading I had several of these floor dropping thoughts, myself, mostly about rivers that are too obvious even to repeat here, and another about how magical it is that the wine in my cup is grapes transformed by sunlight. The 2022 Heliotropes Red is the perfect bottle to drink if you want to feel a lot of joy from thinking about that transformation. It's 100% Cinsault from Sonoma, California fermented two different ways– partial whole cluster and partially anaerobic– and is little else than grapes and sunlight and two pairs of exceptionally thoughtful and precise hands. Besides a delightful crush of bright, red fruits, it's a light red that moves. It's reminiscent of picking wild berries off the side of a rocky cliff and letting the good juice drip down your chin on day one; and something more akin to mixed-berry pie on day two. I loved them both. Which is another obvious profound thing about natural wine: it yields to the season.
Marie-Helene Bertino is an American novelist and short-story writer, who's fourth book Beautyland is forthcoming from FSG in January 2024. Parakeet is my first read of theirs, but it won't be the last due to the simple fact it was both riveting and strange, and we love a strange mind. She has a good litany of miscellany on her website that I highly recommend checking out.
Birdhorse Wines is the collaboration of Corinne and Katie dedicated to bringing diversification and imagination to the Sonoma wine region. The 2022 Helitropes wine is named after a plant's rather spectacular ability to redistribute their phytohormones and turn toward the sun, and comes from 100% Cinsault grapes from the volcanic soil region of Snow's Cross vineyard in El Dorado County. Hand harvested and fermented for 11 days before being combined to finish in neutral oak before aging in the bottle for six months. All profits from this particular wine go to fund LGBTQ+ Summer Campers program.