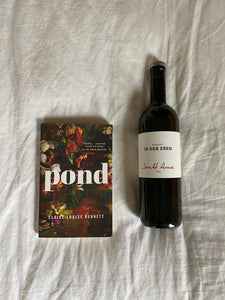 Regular price
Pond by Claire Louise-Bennett with Weingut Sankt Ana
---
To read Claire-Louise Bennett's Pond is to experience many incongruous sensations at once: that of wading through mud—opulent and surprising the way mud can only be experienced as a child; the feeling of watching landscapes flit across a windshield until you're utterly displaced from your surroundings, your mind tipping back and forth between thoughts; and finally, that of trying to get somewhere and, having only an impression of where you want to get, feeling your way back: hand over cool rock, tongue edging each sharp thing, ear to every dip of the narrator's mind.
Unfolding over twelve stories, all narrated by the same unnamed female protagonists, this novel will not answer any of your questions. It will, instead, leave you wondering about your own life: how it's felt in the deepest flickering spaces of your body and made present. In Bennett's world, living comes at you directly; "a clamoring store of images in the clear open spaces of your mind," threading the mundane particulars into a shimmering map. It isn't the what of living, but the how of telling that carves the deepest ravine; proof we are here. In the end, I don't entirely know where I end up—under the earth somewhere or gazing back at my own reflection through a cracked mirror. I read it twice in quick succession, then again a week later like a favorite bottle of wine. I wanted to determine if it was the type of short-story novel that demands to be read quickly, or slowly. The two experiences didn't fall into a particular hierarchy; they were different ends of the same thread. I suggest two reads if you can: once dillingly and another greedily. My guess—the perfect balance is to read slowly but with a steady force, like reading uphill.
This month's wine is almost abrasively acidic; a wine to cut through the cud, sharpen your mind, pull you back to a single train of thought. But, like a mirror that cracks three times and then never again, once you move past its initial spine-tingling acidity, you'll taste flavors of mud and unearthed things. Cantilevered by a sharp minerality, this wine lingers in your mouth like traces of dirt underneath your fingernails. Coming from Trentino-Alto Adige, Italy, coincidentally the oldest German-speaking wine region in the world, the 2016 Weingut in der Eben Sankt Anna is composed of two grapes I had never heard of: Vernatsch and Lagrein. After reading this novel, at least one of those words will remind you of a sexual organ, and the other of the sound it makes. Wherever you end up with this novel, or this wine, "I drink to you; I drink to me," and to the "edgeless, living fragrance" of existing in the only life we have. 
Claire-Louise Bennett is a writer living in Galway, Ireland. Pond is her first novel, written after fleeing her academic career in London to a self-imposed isolation in Ireland. This novel is truly like nothing I've ever read before, and I'm hungrily anticipating her next work while simultaneously feeling very anxious about it. 
Weingut in der Eben is a rather mysterious winery, though perhaps not intentionally. Unlike the narrator of January's Book Cru novel, I can not speak German and the wineries website is "in progress." Here's what I know: their wines are biodynamic, aged in old oak barrels, usually for several years, and hardly any sulfur is added to the wine at bottling. For that reason, I suggest drinking the wine on the night you open it, and no more than the day after.