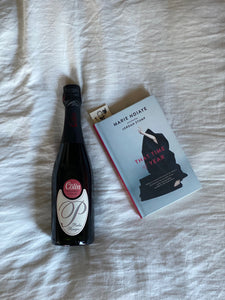 Regular price
That Time of Year by Marie NDiaye with Patrice Colin Perles Rouge
---
For the last two months, I've felt a disproportionate amount of dread about the approaching season change on top of the very proportionate amount of dread I've felt about the state of all other things. But almost without realizing it, we've crossed into the next season and, while nothing else has gotten better, it hasn't at all felt like the march to a "long, springless winter existence" I had assumed it might be. I know it's early, but I remain hopeful. In Marie NDiaye's novel That Time of Year, this point of weather change is catalyst for the delightfully strange and ghostly story that follows: not a light-as-a-feather-stiff-as-a-board sort of ghost story, but one like a dream you can't get out of because someone has stolen all the door knobs. 
The verb to haunt has many definitions, but the one I'm most drawn to is this: to stay around, or persist; to remain. There's much that is haunting about NDiaye's slim novel. The observations of her characters are precise—holding the novel together like the rigid edge of a shoulder blade. With each passing sentence, the reader becomes committed to the next, determined to find out where the mounting pressure may lead, or rather, where it may let you off. The experience of reading it is not unlike that of opening a bottle of bubbly wine by yourself: in doing so, you've already committed to the next sip—to a whole evening absorbed by a state of "perpetual effervescence." Perhaps you didn't see it coming, but you should have. The Perles Rouge from Patrice Colin is a wine perfect for a night of temporary hibernations. It's bubbly, but not so much that you feel like you need to celebrate. It's bright with cranberries and tinged with a bit of smoke, and, like this novel, it lingers—persisting in each slightly velvety sip. 
Marie NDiaye was born in Pithivers, France and grew up in the suburbs of Paris with her French mother (her father is Senegalese). She published her first novel at the age of eighteen, which won the prestigious Prix Femina in France. I wish I could remember how it came to me, but by some spooky action one day I found myself absorbed in her lyrical memoir Self-Portrait in Green, and I've been steadfastly consuming her novels ever since. Many of her novels, including this one, have been translated by Jordan Stump, which I take to mean very good things for the accuracy of this translation. She currently lives in Berlin. 
Patrice Colin makes wine in the town of Thoré, France in the Loire, Valley. His vineyard has vines that date back to the 1890s where he grows Chenin, Pineau d'Aunis, and Gamay--the latter grape making up 100% of the Perles Rouge Pét-Nat we're drinking this month. Pétillant naturel is a style of winemaking where the main, and only, fermentation occurs in the bottle, resulting in the velvety mousse that graces the first pour. Its fizz fades, but, in Patrice Colin's case at least, the bright acidity doesn't.