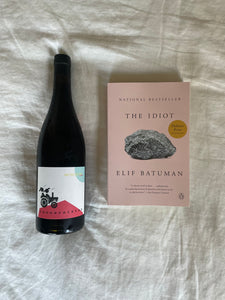 Regular price
The Idiot by Elif Batuman with Rennersistas Waiting for Tom Rose
---
I love summer for its sense of endlessness; even now, well into adulthood, it feels like the possibility to follow a thought to the other side of thinking—to wallow, or waste, or luxuriate— to exist outside of the formalities of the rest of the year are things I find myself waiting for. Summer. The time that feels most acceptable to simply lie in the grass and think about nothing, or everything, and as if we can see through all of it at the same time.
I've been thinking about why we come to novels and what a novel really is, which is most definitely another wrong sort of thing, "neither pleasant nor useful," that I often find myself thinking about. What are we looking for, and why is it that it's rarely the thing we end up finding? There are things I'm often looking for when I read: stories that surprise me, linguistic experiments, the pleasure of language, narratives that ask more than answer, and novels that follow a feeling to its very depths. Rarely, though, is tenderness a feeling I seek, or would even say I particularly like, in a novel. But for the protagonist of Elif Batuman's The Idiot, novels are life; and, as such, she explores each feeling like a new thing to be named. Maybe a novel is nothing but "a chain of events that would somehow account for a certain mood—for how it came about and for what it will lead to." But isn't this "looking for beauty" a way of living, and perhaps one that is just as extraordinary as finding it, or finding anything at all?
Perhaps what I'm really left with after reading The Idiot, the thing I didn't know I was looking for but gives me a sense of recognition so sweet it makes my teeth ache, is the proximity to that feeling of waiting—one that's particular to adolescence, but perhaps feels closest in summer no matter your age— an achy, tender, page-turning, sped-through, slow-motion, see-through sort of feeling. It's pleasurable to visit from the other side: the side where every event doesn't feel like a hole ripped through the galaxy, setting you on a vastly different path. It's pleasurable too for the realization that we've never really left that feeling behind; the only thing that's changed is we now know everyone else feels the same way too.
The Rennersistas Waiting For Tom Rosé also possesses a delicious sense of waiting. Its tart, bright red fruit (70% Zweigelt, 30% Blaufränkisch) vinified in old oak barrels gives it a perfect blend of can't wait for another sip while luxuriating in the present sip sort of vibe. It's a wine that smacks of a summer day with nowhere to be. More strawberry than peach, more gentle fruit than alcohol; it's a wine you'll love without having to think too much about, which paired with a novel about thinking will be a refreshing sip to pour down your tender throat. The Rennersistas is the project of the three Renner siblings, a project in biodynamics that aims to make honest wines, and they "hope to express ourselves in them." Which might just be another definition of what a novel is.
Elif Batuman is an American Writer and Academic. Born to Turkish parents in New York, and raised in New Jersey, she is the author of three novels. Her second, The Idiot, which is based largely on Batuman's own experiences, is a novel that has been recommended to me several times over the past few years without hitting, until just a few weeks ago and a weekend spent in the grass. She is also the author of The Possessed: Adventures with Russian Novels and the People Who Read Them, as well as sequel of sorts to this month's pick, Either/Or, which was published by Riverhead this month.
Rennersistas have been making some of my favorite wine in Burgenland, Austria for a long time. This project, founded by the three siblings of the Renner family estate is a project dedicated to biodynamic processes, simple, honest wines that showcase the varietals of the area without fining or added sulfur.